30 September, 2011: A Stitch In Time
February 2nd, 2012 at 17:31
On a sunny day in September, 2011, Marsha Spencer saw an opportunity, an opportunity to use her skill to help a social movement she felt had value. That movement was the
Occupy Wall Street (OWS)
movement and involving herself amidst the then, rather young crowd, Ms. Spencer began a movement of her own – a movement to, stitch by stitch, bring old and young, rich and poor and the haves and the have-nots together by knitting warm clothes for the soon to be winter warriors of OWS.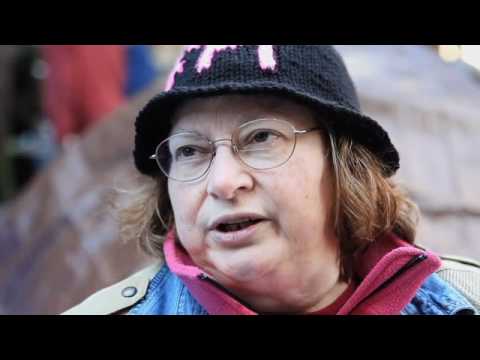 And then the media took notice. From The New York Daily News and NY1 to Jimmy Breslin, the CBS Evening News, Piers Morgan and The Daily Show a 56 year-old grandmother of five had captured the hearts of a nation claiming that she wanted her grandchildren to be "proud of America" like she was at their age and this was her way to do that.
A hat here, a mitten there, little did Marsha Spencer know that those would be the beginning of the #OWS Fiber Arts working group and a commitment to bringing America back to its heritage, stitch by stitch.
Tags: #OWS, America, CBS Evening News, Daily Show, Fiber Arts, Jimmy Breslin, Knitting, Marsha Spencer, New York Daily News, NY1, Piers Morgan, Zuccotti Park