Tuesday, February 7th, 2012
Widowed at a very young age and raising her family as a single mom, Karin Hofmann is no stranger to difficult times. But when she came to ask herself what she could do for the Occupy cause the answer was easy – come every day and knit for the next generation. Still paying off her student loans from too many years ago, at 69, Ms. Hofmann has felt our country's financial crisis first hand but now finds hope in a newer generation. "The change isn't going to come fast enough for me", she says, "but I feel very confident, after a month (here in Zuccotti Park), that these kids – so kind, so generous, so smart – are smart enough that they'll figure it out…they'll figure out how to fix it." Inspired by the energy of the Occupiers and the growing group of knitters, she became a founding member of #OWS Fiber Arts working group and continues to spread her love of the movement at Charlotte's place and Zuccotti Park when the weather permits.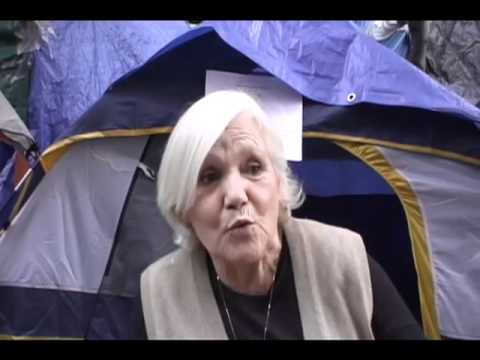 Seen most recently at the Occupy Town Square event at Washington Square, she continues, "That's the paradigm shift – we all work together – and these kids, they know how to take care of each other – it's inspiring". As one of the first to broaden the generation range of the Occupy Wall Street movement, Karin Hofmann has helped to show America that working together towards a greater common goal can happen, even if it's just one stitch at a time.